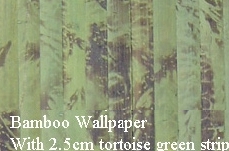 Tortoise shell pattern Green
BWC-01
We are currently one of the largest bamboo wallpaper suppliers in China. We always develope severals new patterns for our bamboo wallpapers termly. And we will supply you all kinds of bamboo wallpaper accessories for your installation. one of our most popular items is versatile rolled bamboo wall cover, if you are looking to install bamboo wainscot for walls or ceilings in your home or business, our bamboo wall cover is the right product for you. ,we providing flexibility in shipping and installing.
We basically offer 3 different types of bamboo wall cover as following.
Bamboo woven slats wainscot
| | | | |
| --- | --- | --- | --- |
| Trotoise yellow BWC-02 | carbonized BWC-03 | woven green BWC-04 | natural BWC-05 |
This bamboo wallpaper cover is constructed with natural bamboo thin flat inner or outer slats with skin, the slats are averaging 1/2" wide and 1/12" thick, with a cotton net backing. Or, woven with rope like a bamboo mat / window blind. The skinless bamboo wallpaper come in two popular color, the natural blonde BWC-05 and the carbonized caramel color BWC-03 ; BWC-01 is made of natural green 3/4" with outer skin and with tortoise pattern patch finished on bamboo strips, with cotton mesh back for applying adhesive to the wall. The natural green bamboo color will eventually fade to more yellowish color like BWC-02 years later. BWC-4 is plain bamboo with skin wall cover thread with string weaved. It comes with 4'H.

Size Availble

Bamboo strips with 1/6"-4/5" width (horizontal lamination) fixed on fabric in order to use as wallpaper Decoration
Roll Length:200",400",600",800"
Width:36",40",48",60" and 80"
Thickness:1/12"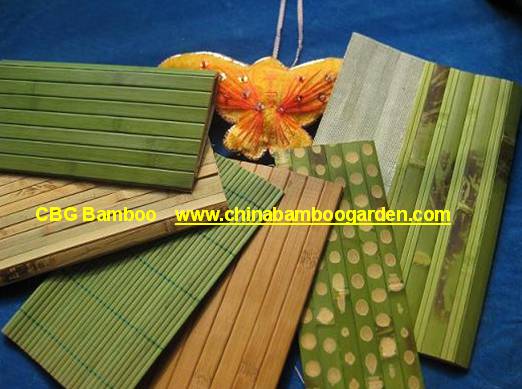 Installation a woven slats bamboo covering panel is easy , you can just glue them onto the wall. first, apply a coating of glue to the cotton net backing or bamboo back directly ,if you want to reinforce, you can nail or staple them to a wall or ceiling. use our bamboo molding to put a finish touch on your bamboo wall project.
Bamboo poles panel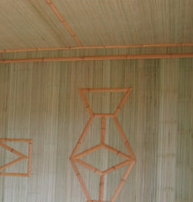 Bamboo poles panel for wall&ceiling
Our
bamboo stick (BFN-01) or split bamboo fencing can be used for wall or ceiling or other structures covering directly.
bamboo poles wall cover is weaved or strung together with copper wire which
same as bamboo fence.
To install them over the wall or the ceiling, just unroll them and lay them flat to the wall, adjust the half split bamboo poles that are loosen for the ease of rolling and shipping. Then pull and stress the bamboo poles wall together tight, secure the cover to the wall with screws. Make sure you pre thrill the holes through the bamboo first.
Bamboo woven (kintting) flat panel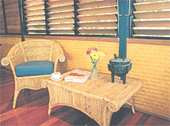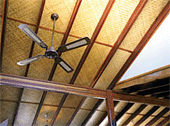 Bamboo Hand-crafted weaves are laminated to create strong and durable bamboo plywood panels. Woven bamboo ply panels are ideal for ceiling linings, wall linings, kitchen cabinets, doors & cupboard fronts furniture, screens & feature panels, etc. it is Up to 1200mm wide by 2400mm long ,Thickness from 2mm (Xply) up to 18mm (XXply). The right way of installation of the bamboo cover on walls or ceilings is to start on one ends, capture this material with molding on one ends side, then gradually smoothing them over toward the other end like installing carpet, Staples can be inserted, or you might need to put a few finish nail on the corner or the middle of the wall if sagging develop.