Bamboo Poles



Bamboo Poles /cane / stake / stick play an important role in the early development of the young plants and trees. It was widely used for horticulture and agriculture industry . bamboo poles also are good for build fencing, furniture and structures; Bamboo poles /cane / stake from China have original light Green-yellow in color, but people were used to get
poles treated
to make avoid insect, erosion and mildew. This caused poles light yellow color. Black bamboo poles have natural black grown color. They are all hollow poles, usually very straight with a gradual taper and well defined nodes.
We specialized in exporting Moso ,Tonkin ,DAN,Red-cock,black bamboo poles /cane / stake / stick. Most of them are "A" grade poles, which are selected by our experts before they were cut down on the hill and processed carefully in our factory. we can supply a variety range of both in lengths and diameters. Sizes can be ranging from 40cm to 600cm or above in lengths with different diameters that best suits the needs of various customers.
Furtherly, we can produce fire retardant / flame proof bamboo poles / cane / stake / sticks / slats which meets fire flame retardant standrad of USA,EURO,Middle Easy of Asia countries; Mainly used for hotel,complex commercial place construction and interior room decoration
| | |
| --- | --- |
| bamboo stick Tsinglee / Tonkin Bamboo | bamboo poles |
| Moso Bamboo cane | Split bamboo Slats |
Features
Customized sizes are available

All pieces hand selected

Guaranteed to be free of slash/farmer's marks

Available in natural or dry yellow or variety dyed color

It is rigid and flexible.

Highly resistant to worms and mould

Fire retardant bambus treatment to avoild flame ,used for hotel ,complex etc construction

Custom sizes available!

Diamter measured at 2-3cm from the bottom of the cane

Moso Bamboo Pole : Length 2900/5800/11600mm ,Diameter 40-150mm

Red-cock Bamboo : Length ~2900/5800mm ,Diameter 30-60mm

Tonkin Bamboo : Length ~2900/4000mm ,Diameter 6-30mm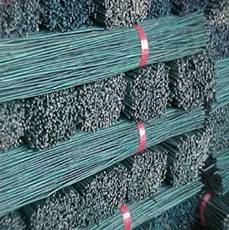 Green dyed stake
They are dyed green so they blend in well with the natural color of the plants. We supply full range of dyed green Bamboo Stakes (canes) in green ,black, brown, mohagany ,yellow color with different lengths and diameters. These work great for staking up plants and flower spikes. They usually are the difference between a straight tree and one that grows crooked. We encourage gardeners whenever possible to stake their plants when using our containers. This gives a plant or tree adequate protection, support and an opportunity to grow vigorously side the container.
Plastic coated bamboo cane / pole / stake / stick
Plastic coated bamboo stick

We use PVC plastic to coat bamboo stake / cane / pole / stick, end cap is available as your request

Plastic Coated Canes Sizes List

Pos.

Length in ft.

Length in cm

Diameter (mm)

Item no.

1

2.00

60

6/8 mm

PCC2X6/8

2

3.00

90

8/10 mm

PCC3X8/10

3

4.00

120

8/10 mm

PCC4X8/10

4

4.00

120

10/12 mm

PCC4X10/12

5

5.00

150

10/12 mm

PCC5X10/12

6

5.00

150

12/14 mm

PCC5X12/14

7

6.00

180

12/14 mm

PCC6X12/14

8

6.00

180

14/16 mm

PCC6X14/16

9

6.00

180

18/20 mm

PCC6X18/20

10

7.00

210

14/16 mm

PCC7X14/16

11

7.00

210

16/18 mm

PCC7X16/18

12

8.00

240

18/20 mm

PCC8X18/20

13

9.00

270

18/20 mm

PCC9X18/20

14

9.00

270

20/22 mm

PCC9X20/22

15

8.00

240

23/27 mm

PCC8X23/27

16

10.00

300

18/20 mm

PCC10X18/20