Our Well designed bamboo bar entertainment center with elegant stright/curved out counter provide plenty of leg room for comfortable seating. Counter are available in either 64" or 72" long and 24" or 30" in width respectively, all of them are 44" high. it has a hanging space, open or with doors shelves storage spaces, two cabinet doors open to a two tier shelves storage below the counter, it is handcrafted with over 5 years Mao bamboo, Choice of tropical grass thatch roof,or reed/straw/palapas palm leaf, or the classic Asian bamboo tile roof. TB-ARC has curvedc shape which favor you a unique feeling ,our bamboo outdoor table umbrella with chairs or stools and bamboo beach tiki bar and patio works in the same way. Bamboo bar is finished with a coating of lacquer. natural green or natural yellow, carbonized color is available.
TB-N1 Natural(Weight-185 LBS).

64"L x 24"W x 90"H

72"L x 30"W x 96"H

TB-N2 Grass/Reed/Thatch Roof

64"L x 24"W x 90"H

TB-C1 Carbonized

64"L x 24"W x 90"H

72"L x 30"W x 96"H

TB-ARC

80"L x 28"W x 100"H
Bamboo Mini Bar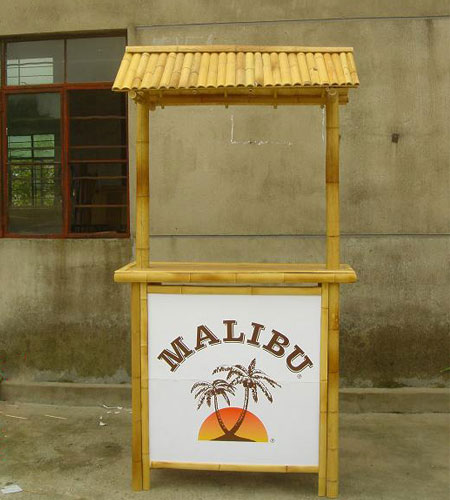 Bamboo Mini Bar Serve some cold beverages in your bamboo / plywood bar.
Size: 39 3/8" x 88 5/8" x 19" (bar); 16 1/2" x 26 3/4" (stool) or 2000*800*400mm
Colour: natural
Logo: Printing or sticker
Bamboo Tiki bar / Tiki huts sign
Hand Craft made sign with bamboo frame and weave mats panel or bamboo pole panel
"TIKI BAR" ,"TIKI HUT", "ALOHA" " MAHALO" Sign in Bamboo Tiki Style is a greeting that goes beyond saying hello -- it also carries an expression of love and caring toward the person being greeted.This beautiful bamboo Tiki Bar sign will hold up well inside or outside.
Add good atmosphere to your bar room or tiki hut/bar!
Regualr size: D 2" X H 12" X W 24"