Bamboo Planters and Stand
Bamboo planter, Flower pot bamboo stand supporter,bamboo plant enclosure,raised bed

We offer bamboo weave ( plaiting) planter and flower pot cover made of bamboo pole, slats or strips; and bamboo plaiting flower basket pot, weave or spun vase and bamboo tube bucket ornaments for your home decoration; we also have bamboo raised bed, border edging, enclosure fence, low rail and post fence to enclose your nursery, plant and flower

.
Bamboo weave planter and flower pot cover
A bamboo planter and pot cover can be a very beautiful touch to your garden, yard or patio. And with our wide selection of high quality merchandise, you are sure to find what you are looking for here: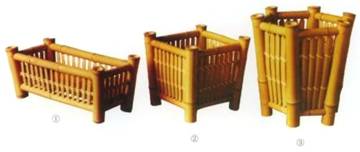 Woven splitted Slats Chained Side Planter


Splitted Slats Pegged side flower pot
| | |
| --- | --- |
| We use Chinese traditional pegged and rabbeted joint connection with splitted bamboo slat dowels for pot frame, which are also glued and hammered into the joint slots. These slat joints are as strong as wooden mortise and tenon joinery, for longer lasting usage glued bamboo dowels are used in every joint for holding strength; side slats can be chained or clipped by slats | Wooden frame planter |
Size
| | | |
| --- | --- | --- |
| Hexogen | Cuboid | Cube |
| 16"D x 18"H | 26"L x 12"W x 12"H | 14"D x 14"H |
| 14"D x 16"H | 22"L x 10"W x 10"H | 16"D x 16"H |
| 10"D x 12"H | 18"L x 5"W x 5"H | 18"D x 18"H |
Bamboo pole chained flower pot (planter box)It is made of original bamboo poles. Plus the bamboo frame is reinforced with copper wire or nylon coated wire to keep the bamboo from splitting making this type of planter sturdy and strong. Finished with natural lacquer for protection from weathered and erosion.

Bamboo round pole chained planters

13"D/11"D/9"D (total three)

Planters with trellis back – wood or bamboo frame

Attractive and Eco-Friendly, this Planter/Trellis combo is a wonderful addition to any Garden, Patio or Tiki Bar area! It is great for planting your favorite flowers while adding privacy to a space. You can also plant a wandering green or flowering plant such Hibiscus or Ivy to create an even more private space. Either way, this Garden Planter/Trellis will add that perfect touch to your garden paradise!

Trellis measures 12"-72" High x 30" Wide
Planter measures 30" Wide x 11" High x 11" Deep
Or your expected dimensions

Bamboo planters with back trellis
Bamboo plaiting basket pot , bamboo tube bucket, vase

Bamboo strips plaiting basket Pot, Bamboo Garden Hanging Basket Planter; Plaited / slats combined / big tube bucket; Bamboo Sculpture / plaiting / spun / tube / vase;

See more information at:

Uneven height bamboo plaited basket planter

5.5 x 6 x 4 inch H and 5H - Can be hanging to the wall
Bamboo supporter rack shelf
| | | |
| --- | --- | --- |
| Three stair bamboo flower shelf | Three tiers Bamboo plant shelf | Flower pot supporter |
Bamboo plant enclosure (low rolled fence), raised bed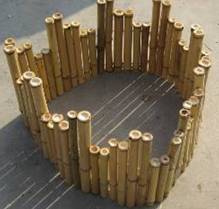 See more information at, P>
Bamboo chained whole / spitted poles or wire through woven low rolled fences, uneven enclosure fences;Bamboo border edging ;Bamboo rail and post fences; Bamboo raised bed;
Bamboo Raised Bed
Bamboo raised bed is simple,natural and efficient look. Horizontally lined with Moso bamboo poles, it's specially processed for outdoor use. They are perfectly good for vegetable gardening or any kind of gardening you desire. Each section come in 4 panels, easy set up with bolts and nuts. Standard section size is 4'x 6', can be extended to increment of 6' length. The height is 18". Posts of constructed with 4" bamboo posts and 2" whole bamboo inserted into the posts form the wall panels. Extra bamboo towels thread through the bamboo wall to provide extra support.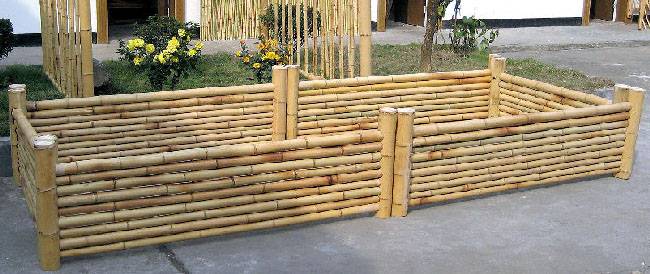 Our bamboo planters box come in different sizes . after you have setup the planter or raised bed, then you would need to get these material ready for liner installation if you don't like to put plastic or pottery flower pot into it.
Tools : A pair of scissors, staple, staple gun, measure tape.
You would need enough material of 6-mil plastic , Calculating by adding the areas of 4 sides walls and the bottom of the planter or raised bed. You can attach the plastic by stapling it to the very tops of the side walls (just under the top trim). The easiest way to complete this task is to carefully center t, he plastic over the top of the box. Then tack one edge of the plastic , all along one side with staples. Push the plastic down into the box, laying enough plastic to cover the side, bottom and opposite side. Then, staple the plastic into place.
Make sure you cut at least 6 drainage holes at the bottom of the plastic sheet, so the water can drain through the drainage holes of the planters.
Bamboo Pot
Our bambooflower / plant pot and cover include weave bamboo basket pot and pot cover, hanging pot , bamboo flower holder ,bamboo plaiting or Spun vase and tube bucket ornaments for flower, plant and nursery, etc.
Bamboo Bucket and Vase,flower holder
| | | |
| --- | --- | --- |
| Bamboo Flower Bucket L 20¡¡À x D 2¡¡À-6¡¡À | Bamboo Flower Bucket Uneven Height | Bamboo Vase S H15 x D7CM, M H25 x D7CM L H35 x D7CM |
| Bamboo Charcoal Flower Pot Dia 5-6cm high 15cm | Bamboo Root Vase Planter | Sculpted Bamboo Vase Pot |
| | | |